Feature Stories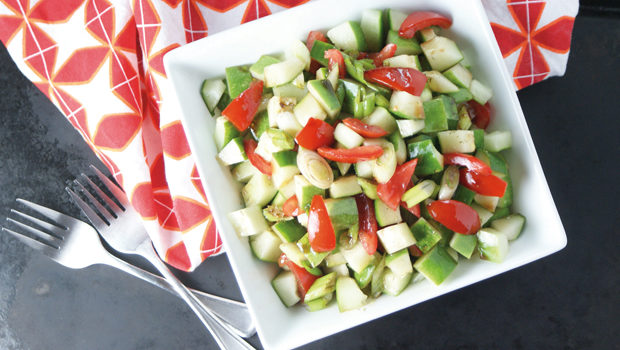 Published on June 12th, 2018 | by LedgerOnline
0
Summertime and the cooking is easy (and cool)!
When it comes to cooking, summer is synonymous with recipes that are fresh, easy and quick – less time in the kitchen, more time to relax at the beach or by the pool or even in your own backyard. But, hey, that doesn't mean you can't dine outside with something delicious as you bask in the beautiful weather.
The Israeli Salad: Variations on a classic theme
Israeli-style chopped salad, typically made with cucumber, tomato, sometimes red onion or peppers and always with fresh herbs and lemon, is about as simple and perfect for summertime (or anytime) as it gets. There's no cooking involved, and it's healthy, refreshing and easy to throw together. Here are a few nouveau takes on this classic salad.
Israeli Salad Ceviche
By Melinda Strauss (www.thenosher.com)
Servings: 4-6
Unlike a traditional ceviche, which can include tons of ingredients to chop like jalapenos, avocado, red onion, bell peppers and garlic, Melinda Strauss has developed a simple recipe inspired by Israeli salad using tomatoes, cucumbers, parsley and fresh lemon juice. Not too much chopping but an incredible amount of flavor.
To go with it, she bakes her own healthy and oil-free homemade corn tortilla chips flavored with cumin and salt but you can use whatever spices you want, including garlic, chili powder, turmeric, etc.
Ingredients for ceviche:
2-3 Persian cucumbers (1/2 cup chopped)
8 oz. heirloom cherry tomatoes (1/2 cup chopped)
3 tbsp. chopped fresh parsley
4 oz. sushi-grade tuna
1 tbsp. fresh lemon juice
1 tbsp. extra virgin olive oil
salt and pepper to taste
Ingredients for tortilla chips:
5 corn tortillas
1 tbsp. cumin
1 tbsp. salt
Directions for the salad:
Chop the Persian cucumbers, heirloom cherry tomatoes and sushi-grade tuna into small pieces, making sure that the pieces are all similar in size. Add the chopped fresh parsley, lemon juice, olive oil, salt and pepper and stir to combine. Set the ceviche aside for 5 minutes for the tuna to cook slightly in the acidic lemon juice.
Ceviche is better fresh but can be refrigerated for 1-2 days. The fish will cook in the lemon juice, so be prepared for cooked fish if you are eating leftovers the next day.
Directions for the tortilla chips:
Preheat the oven to 400 degrees F and prepare a baking sheet with cooking spray. Slice the corn tortillas into triangles and place them on the baking sheet in one layer, making sure none of the tortilla pieces are touching. Sprinkle the tortillas with the salt and cumin and bake for 8-12 minutes, until the chips are crunchy. Set them aside to cool and harden even further. Store the chips in an airtight container for up to 1 week.
Israeli Salad with Grilled Peaches & Honey Lemon Vinaigrette
From Jew Hungry (www.jewhungrytheblog.com)
Salad ingredients:
2 cups chopped Roma tomatoes, seeded and diced
2 cups chopped Persian cucumbers, peeled and diced
1 cup cooked pearl barley, cooled
2 peaches, grilled (instructions below)
3 tbsp. chopped fresh mint leaves
1/2 cup sheep's milk feta
Lemon honey vinaigrette (ingredients and recipe below)
Lemon honey vinaigrette ingredients:
1/4 cup fresh lemon juice (from about 2 small lemons or 1 large)
1/4 cup white-wine vinegar
2 tsp. honey
1 tsp. coarse salt
1/4 tsp. ground pepper
1 cup olive oil
Directions for the salad:
Combine all salad ingredients into a large bowl except for the mint and feta. Toss with cooked and cooled pearl barley. Add 3 tbsp. of olive oil and stir. Next, add half of the chopped mint leaves and feta. Toss to combine. Top with salad dressing and rest of the mint leaves. Serve room temperature or cold.
Directions for grilling peaches:
Cut peaches along the seam all the way around and twist halves off the pit. Discard entire pit. Brush cut sides with olive oil. Cook, cut side down, on a hot grill until fruit has grill marks, 3 to 4 minutes. Rotate 90 degrees to continue to cook for another 3-4 minutes or until total grill marks appear and the fruit starts to caramelize. Remove from the grill with a pair of tongs and sprinkle with a dash of flaky sea salt. Set aside to cool.
Directions for the vinaigrette:
In a medium bowl or jar, combine lemon juice, vinegar, honey, coarse salt, and ground pepper. Whisk until salt has thoroughly dissolved. Gradually add the oil and whisk until thoroughly combined.
Israeli Salad with Chickpeas, Feta & Fresh Mint
By Shannon Sarna (www.thenosher.com)
With the addition of chickpeas and feta, this classic side salad becomes a light but hearty main dish packed with protein, fiber and most importantly, flavor.
Ingredients:
2 cups cherry tomatoes, halved
1 cucumber, peeled, seeded and diced
1 orange or yellow bell pepper, diced
1/4 cup diced red onion
2 scallions, sliced
1 1/2 cups canned chickpeas, rinsed
1/4 cup crumbled feta cheese
2 tbsp. chopped fresh mint
2-3 tbsp. extra virgin olive oil
Juice from 1/2 lemon
Salt and pepper
Directions:
Combine tomatoes, cucumber, pepper, red onion, scallion, chickpeas and feta cheese in a medium bowl. Dress with lemon juice, olive oil and salt and pepper to taste. Sprinkle fresh mint on top.
On the Grill
"Ima" Burgers
From Tori Avey (toriavey.com)
"Ima" is "mom" in Hebrew – and Ima Burgers is the nickname for the little mini Sephardic-spiced burgers Tori Avey's mother-in-law used to make for Avey's husband when he was a kid growing up in Israel. "It's a fun, quick dinner that can be thrown together at a moment's notice," she says, adding that, "her method of soaking a slice of bread in oil, then shredding it and stirring it into to the meat, adds moisture. It allows you to use a leaner cut of meat without sacrificing on juiciness."
Ima Burgers can be fried or grilled; served with or without a bun (slider burgers are the perfect size). Garnish with fresh parsley and tomato slices, and, if you like, topped with spicy sriracha mayo sauce.
Ingredients:
1 lb lean ground beef
1 slice white bread, crust removed
1 1/2 Tbsp extra virgin olive oil
1/4 cup fresh flat-leaf parsley or cilantro, finely minced
2 Tbsp onion, finely minced
1 large egg
1 1/2 tsp cumin
1/4 tsp garlic powder
1/4 tsp cayenne pepper (or more to taste)
Salt and pepper
Vegetable oil, for frying (optional)
Ingredients for sriracha mayo sauce:
1/3 cup good quality mayonnaise
2 tsp sriracha sauce
Directions for burgers:
Place ground beef in a medium mixing bowl. Cut the crust off of a piece of bread. Pour olive oil onto a small plate. Soak the crustless bread in the olive oil, turning the slice once, till all the oil is soaked up by the bread. Shred and crumble the oil-soaked bread into tiny pieces and add it to the meat along with the parsley or cilantro, onion, egg, cumin, garlic powder, and cayenne pepper. Add salt and pepper to taste. Stir ingredients with a fork and/or clean hands until the spices and herbs are well blended with the meat. Gather the meat mixture in 1/4 cupfuls and make small thick patties (they will shrink up during cooking). Cook the patties.
To grill: Grease the preheated grill before you start cooking. It's good to brush the burgers with olive oil periodically as they grill to keep them moist. Grill for 15-20 minutes, until cooked through to desired doneness. Cooking times may vary by grill type.
To fry: Cook in a skillet using 1/4 cup of oil. Use an oil with a high smoke point, like grape-seed. Heat the oil over medium heat till hot but not smoking. Fry the burgers for 10-15 minutes, flipping occasionally, till cooked through to desired doneness.
Directions for sriracha mayonnaise:
Mix mayonnaise together with sriracha sauce in a small bowl till well-blended, adding more sriracha for spice if desired. Serve as a sauce for burgers.
Grilled Sephardic Fish Skewers
By Tori Avey (www.toriavey.com)
Serves 4
If you're in the mood to grill but want something light, try these Fish Skewers marinaded with spices often used in Sephardic Jewish cooking. Cooking them on a smoky grill adds to the aromatic flavor. To stretch the meat, alternate the fish with onion or pepper slices on the skewer. Choose a firm white fish that won't flake or fall apart too easily on the grill. Try not to marinate the fish for longer than two hours, or the citrus in the lemon juice will start to break down the meat, which will make it more delicate on the grill.
Serve with tzatziki, tahini sauce or toum for even more flavor.
Ingredients:
1 1/2 lbs firm white fish (seabass, halibut, snapper)
1/4 cup extra virgin olive oil
1/4 cup freshly squeezed lemon juice
3 Tbsp fresh minced cilantro (you may sub fresh parsley)
2 crushed garlic cloves
1 tsp paprika
1 tsp salt
1/2 tsp cumin
1/4 tsp turmeric
1/4 tsp cayenne pepper
Sliced lemon wedges
Chopped cilantro for garnish (if desired)
Instructions:
Cut the fish into 1 1/2 inch chunks for skewering. In a small bowl, whisk together olive oil, lemon juice, cilantro, crushed garlic, paprika, salt, cumin, turmeric, and cayenne pepper. Place fish chunks in a glass dish. Pour marinade over the fish chunks and stir to coat. Cover with plastic wrap. Place in the refrigerator and let the fish marinate for 30 minutes. If using wood skewers, soak them in water while the fish is marinating, to keep them from burning on the grill. Preheat your grill. Skewer the fish chunks, evenly divided between four wooden skewers. Generously grease the grill. Place the skewers on the grill and cook for about 10 minutes total, turning once during cooking, till the edges are browned and the fish is cooked through. A bit of the fish might stick to the grill — the less you turn them, the less this will happen. Garnish with chopped cilantro, if desired. Serve with sliced lemon wedges. Serve with tzatziki, tahini sauce or toum.
Frozen Limonana: The Israeli Slushie Your Summer Needs
By Chaya Rappoport
(The Nosher via JTA) – Limonana is a classic Israeli drink that combines freshly squeezed lemon juice and mint leaves for a unique Israeli-style lemonade treat that's beloved throughout the country.
Limonana is a combination of the Hebrew and Arabic words "limon" and "nana," which mean lemon and mint, respectively. While the drink may have originated elsewhere in the Middle East, it's an Israeli advertising agency that provided the catchy portmanteau of a name in the 1990s. In an attempt to get public bus advertising off the ground in Israel, the agency advertised a new soft drink called Limonana in sprawling ads across the sides of buses and reported that local athletes and celebrities couldn't get enough of it.
Although the drink was advertised on buses only, the ad campaign was a huge success. Customers begged for the drink and stores pleaded to carry it until the advertising agency was forced to admit the truth: no such drink existed. Undeterred, soft drink companies began to manufacture the flavor – the drink that had existed only as a marketing ploy was now a reality. Restaurants and cafés quickly followed suit, reimagining the drink in iced, slushed and alcoholic variations. It's been a nationwide hit ever since.
The ubiquitous drink is peddled by vendors on nearly every street in Jerusalem and Tel Aviv, but you too can make this simple, invigorating version at home. Creating a simple syrup with the sugar and water, which turns the sugar liquid, means it's much easier to blend into a cold drink, and steeping mint in the simple syrup infuses the drink with an extra layer of flavor.
It's delicious as is, but you can make it alcoholic for a fun, adult twist on the classic. Add vodka or tequila – or if you're feeling really adventurous, substitute Arak, an anise-flavored spirit that's popular in Israel.
With or without alcohol, you're going to want to make these icy, cooling, sweet and tart slushies all summer long.
Ingredients:
3/4 cup freshly squeezed lemon juice, from around 3 lemons
1/2 cup loosely packed mint
6 tbsp. sugar
1 cup water
4 cups ice cubes
Directions:
Combine water, sugar and half of the mint leaves in a small saucepan. Bring to a boil, stirring until sugar dissolves. Simmer for 1 minute. Remove from heat and let syrup steep, about 30 minutes. Discard the mint leaves and refrigerate the syrup to let it cool. Combine the mint simple syrup, the rest of the fresh mint leaves and the fresh lemon juice in a blender. Blend at high speed until well mixed. Add the ice and blend until the ice is thoroughly crushed. Pour into glasses and serve immediately. Serves 2.
Black and White Cookie Popsicles Recipe (dairy)
By Sheri Silver
A cookie milkshake base – half chocolate, half vanilla – with little pieces of cookie (half chocolate, half vanilla) running through. All it takes is a blender and just 5 ingredients!
Ingredients:
1 1/2 cups whole milk, divided
1/2 cup heavy cream, divided
2 tbsp. sugar, divided
1-2 tbsp. unsweetened cocoa powder
8 oz. black and white cookies (you can use an 8-ounce-package of small cookies – about 2" in diameter)
Directions:
Divide the cookies in half – place the chocolate halves aside. Place 3/4 cup of milk, 1/4 cup heavy cream, 1 tablespoon sugar and half the vanilla cookie halves into a blender. Chop the remaining vanilla halves into small pieces. Blend the mixture for 30 seconds. Pour into popsicle molds, going only halfway up. Place a few chopped cookie pieces in each mold. Add popsicle sticks and freeze till frozen. Clean out your blender and add the remaining 3/4 cup milk, 1/4 cup heavy cream, 1 tablespoon sugar and the cocoa powder, along with half the chocolate cookie halves. Chop the remaining chocolate halves into small pieces. Blend the mixture for 30 seconds. Keep refrigerated till ready to use. When the pops are frozen remove from freezer and add the chocolate mixture and a few chocolate cookie pieces to each mold. Freeze overnight. To release the pops, hold molds briefly under hot water. Yields 8-10 popsicles.